In 1984 Sweden became only the third country to play women's test rugby (two years after the first women's test), and tomorrow (18th October) they celebrate 30 years as an international team when they meet the same opponents, the Netherlands, on the same ground, Lindängens IP in Malmö (3pm local time).
Sweden v Netherlands in 1984
The match is a tribute to the Swedish team's general manager, Patrice Johansson, who died in July this year. Patrice played in the match against Holland in 1984 and was an organiser of the game. She then played in the national team until 2004 and was the team's manager for over 10 years.
​The game will also see the 50th and final appearance in Swedish colours of Katarina Boman, who played her first international in 1997 and has since been a near ever-present, missing just three tests in the past 17 years.
The match sees the return of Sweden's leading players following the settlement of a dispute that had seen them boycott national teams.
For the Netherlands the game is a useful warm-up before the European Trophy, which begins in Brussels on 30th October.
30 years ago the extra experience of the Dutch team – from three previous tests against France – was decisive as they ran out 34-0 winners, and the Dutch have generally maintained that advantage since – though most games have been closer with a third being decided by a single score.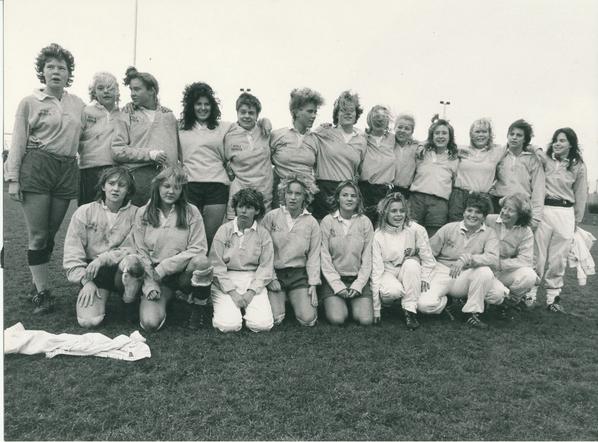 Above:The first Swedish XV
Jennifer Sundquist spoke to Total Rugby Radio about the game:
"It is a huge milestone to reach 30 years of international women's rugby, and with Patrice also in mind it is going to be a big deal for all those involved. Patrice was an instrumental figure within Swedish women's rugby for 30 years, as a player initially and then as team manager for both the Sevens and Fifteens teams.
"We have shown our competitiveness in Fifteens in the past and we want to prove again that we belong in the top 12 in the world," she said. "We have got the structures in place now and we are working hard on recruiting women and girls into rugby. The Under-18s played in the Euros earlier this year and that was a crowning achievement of these structures. Our goal is to have 10,000 players in Sweden by 2020, with half of them girls or women."
Teams for Saturday:
Sweden: Emma Skagerlind (Enköpings RK); Lene Lykke (Enköpings RK); Anna-Lena Swartz (Gothenburg RF); Erica Storckenfeldt (Gothenburg RF); Jessica Melin (Gothenburg RF); Johanna Gustafsson (Gothenburg RF); Ninni Geibat (Gothenburg RF); Sara Sundstrom (Gothenburg RF); Ulrika Andersson-Hall (Gothenburg RF); Ellinor O'Brien (Gothenburg RF); Sandra Ivrefjord (Gothenburg RF); Kerstin Lövendahl (HRC Gripen); Micaela Francke-Rydén (Lugi RK); Karin Hedlund (Malmö RC); Minna Ahlström (Penguin RC); Cicilia Isvén (Saracens RFC, England); Carina Trinh (Stockholm Exiles RFC); Elisabeth Ygge (Stockholm Exiles RFC); Jennifer Sundqvist (Stockholm Exiles RFC); Emilie Hellgren (Uppsala RFC); Katarina Boman (Uppsala RFC); Fia Främling (Vänersborg RK)
Netherlands: Marit Bakker (Delft RC); Karin Beer (RUS); Francien van den Berg (RUS); Marlieke Broer (Dragons EHRC); Hannah Draaisma (RUS); Laurijn Draaisma (RUS); Tiara Enthoven (Bassets RC The); Lieselot Graste (MA.R.Grieten); Sylke Haverkorn (RUS); Giselle Kleinen (Amstelveense RC); Wopke van Leeuwen (Utrechtse Rugby Club); Irith Lely (Thor SRC); Imara Loon (RUS); Mariëtte Mensink (MA.R.Grieten); Mireille Nieuwenhuis (Utraechtse Rugby Club); Maria Louise Pieren (Groningen RC); Fenna Stomps (RUS); Mae-Ling Stuyt (RUS); Asia Udding (RUS); Rosanne Verbeek (Thor SRC); Tessa Wijmans (Amsterdamse AC); Marleen Zethof (Amsterdamse AC); Petra Zwart (c) (Bassets RC The)
Previous tests:
31/12/1984 Sweden 0-34 Netherlands ( Malmö Friendly)
31/12/1985 Netherlands 19-0 Sweden ( Nijmegen Friendly)
31/12/1986 Netherlands 11-6 Sweden ( Akersloot Friendly)
05/05/1998 Netherlands 44-0 Sweden ( Amsterdam World Cup)
12/05/2001 Netherlands 12-13 Sweden ( Lille, France FIRA)
20/03/2002 Netherlands 0-22 Sweden ( Treviso, Italy FIRA)
07/04/2005 Netherlands 8-7 Sweden ( Hamburg, Germany FIRA)
23/04/2006 Netherlands 10-5 Sweden ( San Donà di Piave, Italy FIRA)
02/05/2007 Netherlands 20-5 Sweden ( Barcelona, Spain FIRA)
24/05/2008 Netherlands 7-6 Sweden ( Amsterdam FIRA)
25/04/2009 Sweden 0-24 Netherlands ( Norrköping Friendly)
26/04/2009 Sweden 3-7 Netherlands ( Norrköping Friendly)
02/04/2010 Netherlands 19-0 Sweden ( Leiden, Netherlands Friendly)
04/04/2010 Netherlands 20-7 Sweden ( Amsterdam Friendly)
15/05/2010 Netherlands 47-19 Sweden ( Illkirch FIRA)
07/05/2011 Netherlands 21-5 Sweden ( INEF Bastiagueiro FIRA)